The CD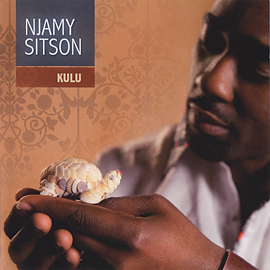 "Kulu"
the new CD of singer songwriter, musician`s musician Njamy Sitson, born in Kamerun.
with:
Njamy Sitson: Lead vocals, percussion, Ngoni, Whistle, backing vocals.
Henrique de Miranda: guitar, shaker (1), Udu (7)
Yenisey Rodriguez: violoncello
Alexandrina Simeon: backing vocals (3,4,6,7,8,11)
Bobet Nlombi: backing vocals (2, 3, 6, 7, 8, 11)
Der aus Kamerun stammende Njamy Sitson ist ein Weltbürger mit afrikanischen Wurzeln, Schauspieler, Komponist, Sänger, Multiinstrumentalist und Percussionist.
Mit seiner beeindruckenden Stimme, deren besonderer Reiz im Wechsel zwischen kraftvoller Bruststimme und einem fast flötenartig hellen Kopfregister liegt, zieht er das Publikum in seinen Bann.
Neben percussiven Instrumenten spielt er Kalimba (ein afrikanisches Daumenklavier), und verschiedene afrikanische Harfen. Tief verwurzelt in traditioneller afrikanischer Musik und zugleich ganz zeitgenössisch verkörpert er das Ideal einer Musik ohne Grenzen, in der die Klänge aus aller Welt harmonisch verschmelzen.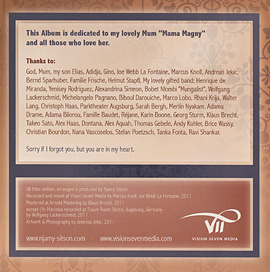 01 Nkonimam
What you love is maybe not for you
02 African Cello Suite
When the wind smiles, the grounded trees dance
03 Licht
Welcome my child, I will take care of you !
04 Meeting of the spirits
Brotherhood in spirit ! We belong together !
05 Chun batkam
Twin`s elder has a nice friend
06 Papillon
A butterfly is soft and gentle but can get crazy
07 African romance
Love is a learning process
08 Ode to Francis Bebey
Thank you maestro and rest in peace
09 Lamento Pygmaeus
Pygmee need the forest and the forest needs them
10 Oumarou
Tribute to my Ngoni teacher Oumarou Mambara
11 Fon Fon
In honor of the spirit of the Fon tribe in Benin
12 Cantare del Filhos
Dad I love you ! Rest in peace
13 Oho ho Mba !
Good bye, good bye ! See you soon ! Blessing !
All titles written, arranged & produced by Njamy Sitson
Recorded and mixed at Vision Seven Media by Marcus Knoll, Joe Webb La Fontaine, 2011
Mastered at Arnold Mastering by Klaus Arnold, 2011
Artwork & photography by Andreas Jekic, 2011
DreamPoint music LC 15267
www.njamy-sitson.com